This morning, I woke to the news of the passing of Guy Clark. I racked my brain for the right words to send out in a post to the Heartworn community, and admitted that I couldn't find any that sounded like the right ones. So I was short and sweet, and immediately after sending, I sat down to write something more in line with what I was feeling. The following is what came out. Read as much or little as you please, but please understand that Guy was and still is the reason why this community exists. It's a sad day, but it's also a day to celebrate the lasting impact of this man on all of us, and everyone who has yet to discover him. Heartworn Highways Revisited will be released just as soon as we can finish crossing all the t's and dotting all the i's. We can't wait to share it with you, and some of the moments I talk about below will serve as a preview of what's to come. Thank you for your love and support.
– Wayne Price, director, Heartworn Highways Revisited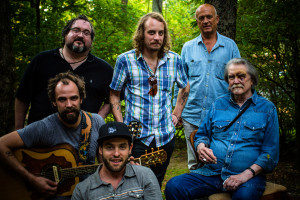 The Heartworn Highways Revisited crew on the day of shooting in Guy's backyard, September, 2012. From Top Left: Brian Devine, Jr. (producer), John McCauley (musician), Graham Leader (producer), Guy Clark (musician), Wayne Price (director), Jonny Fritz (musician)
LAST THOUGHTS ON GUY CLARK
The blank page always scared Guy Clark. He was no different from you or me that way. What made him different is that he said "fuck fear" and wrote right through it.
I discovered Guy Clark the same way many people did, via a music documentary called "Heartworn Highways." As a filmmaker specializing in music, I had heard of this film, though I'd never seen it – probably because it was so difficult to access. The film was made in 1976, played the 2nd Sundance Film Festival in 1977 and had a limited theatrical release not long after. At one point it came out on VHS, and then those VHS tapes were the only copies in circulation for many years. It soon became one of those stories, you know, about the cult film that's only available on VHS tape on Ebay. For $260.
I didn't purchase a copy on Ebay. I was handed an extremely rare DVD (wait a minute… there was a DVD release?) by the film's producer, Graham Leader, in his office in NYC. As luck would have it, my friend and collaborator, Lucas Akoskin, was sharing an office with Graham, who was seeking a director who specializes in music to work with him on a new Heartworn project. I guess that described me. In our first meeting, I was handed the coveted disc, and ran home to watch the film. What I saw (and heard) literally changed the course of my life.
The movie opens with arguably Guy's most famous song, "LA Freeway." The tonality of his guitar – which we'll later learn he built himself – is the only sound we hear. The chills induced in my body via the perfect blend of sound and image can mostly be attributed to Guy – his guitar, his melody, his voice, and his lyrics.
Pack up all your dishes.
Make note of all good wishes.
Say goodbye to the landlord for me.
That son of a bitch has always bored me.
 To echo Josh Hedley, star of the sequel (of sorts) I would end up making with Graham called "Heartworn Highways Revisited," "who in the fuck is this guy?" This is pretty much what I was thinking at that moment. Who writes like this? At once bitter, sweet, optimistic and flippant, all in the voice of, well, a real person. If he wasn't singing these lines, you can sure as hell hear him saying them. This combination of song-voice-lyrics played solo by the man who wrote them set the tone for the 85 minutes to follow, and I'd say are the reason why a VHS could sell for $260 on Ebay.
If I can just get off of this LA Freeway
Without getting killed or caught.
Guy told us the story of how he came up with this line while we were sitting in his basement workshop, where he still built guitars – several per year – well into his 70th year of life. How did I get there? From falling in love with a singer in a film, to filming this singer in his own house? Life is strange, and I guess I was there because I was meant to be there, capturing this moment, which was as honest as the song and the man sitting across from me with a black eye that he simply didn't explain.
What Guy did explain was that he had played a gig in San Diego, and was riding back home to LA in the back seat of somebody's car. It was late, and they were dealing with dreaded LA traffic. In Guy's words… "I thought man, if I could just get off of this LA Freeway without getting killed or caught. And that wasn't just poetic, that was the real sentiment!" He goes on to describe the "lightbulb" going off in his head and realizing he had nothing to write it down with. So he ripped off a piece of a burger sack and found one of Susanna's eyebrow pencils, and wrote down the line. Ah, inspiration.
Before we arrived at Guy's house that day, I was "warned" about how temperamental Guy could be. I wouldn't say I was nervous, but let's just say that Vegas odds on me spending 8 hours in Guy's house filming multiple songs in multiple rooms and sharing stories like old friends would have been 750,000,000 to 1. The fact is that when we arrived, Guy smiled as he shook my hand and asked if we wanted coffee, only to prepare the coffee himself. I haven't been treated so kindly by family members, and yet here's Guy Clark, old and frail with a black eye, still emotionally shattered from the recent death of his everything, Susanna… making us coffee and telling us to feel free to film whatever we want inside his house. When people trust you like this, it quickly becomes your goal and responsibility to repay that trust. As the day unfolded, I asked Guy if it was ok to bring over John McCauley, the musician at the center of the community to be depicted in Revisited. Not only was Guy ok with that, but he asked if there was anyone else I wanted to invite. Jonny Fritz was next on my list, and I'll never forget the feeling of calling Jonny to invite him over. These rockstars became school kids, giddy in the presence of their own hero. For the fact is, I wouldn't have a movie if it wasn't for Guy, and what he did 35 years earlier in sparking a community of songwriters more interested in drinking and drugging and jamming with each other than selling some over-produced crap to mainstream Nashville. Perhaps this is why they were called "Outlaws."
Authenticity seems to be the catch phrase of today. Everyone wants it. Everyone tries to be it. I have traveled the country and the world, spoken to countless people of different cultures, colors and beliefs. I have met a total of two people who struck me as 100% authentic – a young boy in Arusha, Africa who tried to sell me a bracelet and then schooled me on the politics of George Bush and my own ethnocentricity; and Guy Clark. Within five minutes of being in his presence, it became crystal clear why a group of songwriters in mid-70's Nashville wanted to spend as much time as possible in his presence. Steve Earle, Steve Young, Rodney Crowell, David Allan Coe… just a few of the now-legendary outlaws who banded with Guy, got rip-roaring drunk, and shared the depth of their souls with each other via the music they couldn't help but create. As Hedley also pointed out, "Who else could write a song about tomatoes? He could."
That same afternoon at Guy's house, while sitting in the lush green backyard waiting for a lawnmower to stop so we could commence a jam session, Jonny Fritz somewhat awkwardly asks Guy, "How long does it take you to write a song?" Guy responds while reaching down to ash his hand-rolled cigarette, "No." That's it. Just "no." And we all knew what that meant. One loaded word, that meant anything but no. It meant, "I can't answer this question simply." I meant, "Are you sure you wanna ask this?" And as the ripples of that "no" sat awkwardly hanging in the air around us all, Guy took a casual drag and continued, "It's different every time." Earlier, inside his house, he forgot some of the lyrics to the song he wrote about Susanna, "My Favorite Picture of You." Talk about awkward. Guy sitting in his own home, playing us a work in progress about the love of his life who had recently passed…
My favorite picture of you
Is bent and faded
And its pinned to my wall
Oh and you were so angry
It's hard to believe
We were lovers at all.
And he stops. And we're not sure if he's going to lose a grip on his emotions. And it's tense. And then he says, "I forgot what's next." And we laugh, because that's what releases the tension. Guy reaches behind him and pulls out a folder overflowing with paper. It looks like the treasure chest, a lifetime's worth of song lyrics, too much for the flimsy folded-over piece of beige cellulose fiber to handle. "How many years does that folder represent?" I ask. "Oh this is just this year," Guy responds.
I had to take a quiet moment to let this sink in. There were easily 200 pieces of paper there, all with hand-written lyrics on them. We were there in September, so all this came out of a 70 year old in less than 9 months.
"Now this is analog," Guy says with a grin while searching his lyrics bible. He finds what he's looking for, and rolls back into the song…
There's a fire in your eyes
You've got your heart on your sleeve
A curse on your lips, but all I can see
Is beautiful.
My eyes started to fill with tears then, and they are again now.
That same night, Jonny Fritz was hosting a group of friends at his house to celebrate Josh Hedley, best friend and fiddle player for his band. I don't think it was Josh's birthday, but rather (as Jonny called it) "Josh Hedley Appreciation Day." We all found ourselves in Jonny's backyard, a warm September night, crickets not waiting for the guitars to sing their own song. Several people came up to me to quietly let me know how incredible they heard the day went with Guy, and to also let me know that I should have invited Josh, as he may be the biggest Guy Clark fan of the crew. I had no idea until that moment that Josh plays a weekly gig in Nashville where he covers several Guy songs. I walk over to Josh, who is holding Jonny's guitar, and apologize for not inviting him. He of course was cool about it. I ask him if he wants to play a song for Guy, and I'll film it. Josh takes the guitar and proceeds to play a song that I didn't know, but it didn't matter. It may have been the most beautiful song I had ever heard…
I wish I had a dime for every bad time
But the bad times always seem to keep the change.
You've been all alone so you know what I'm sayin'
So when all you can recall is the pain
Just you wait until tomorrow when you wake up with me
At your side and find I haven't lied about nothin'
And I wouldn't trade a tree for the way I feel about you
In the mornin'; Anyhow, I love you.
I have to admit, I didn't know if this was Josh's own song, Guy's or somebody else's. I asked Josh when the applause died down, "Whose song is that?" To which Jonny snapped at me… "That's Guy's song! Good to know whose done his research." The song is called "Anyhow, I Love You." My wife now plays it as part of her repertoire and I take pause every time I hear it.
Guy wasn't doing well when we visited his house back in September of 2012. We saw him later that year at a dinner we hosted in Nashville for all the artists involved with the film. He looked even worse, but it didn't stop him from taking the stage and playing several of his songs, including "LA Freeway" and "To Live is To Fly" as a tribute to his best friend, the late Townes Van Zandt.
Also sharing the stage with Guy that night, was the late Steve Young. Who shared with us a roaring version of "Alabama Highway" backed by Robert Ellis, and the song that most people don't even realize he wrote, made famous by The Eagles, "Seven Bridges Road."
It is only now in retrospect that I realize how truly blessed I am to have shared at least a small moment along the path of these modern day heroes. When the Grammys come around next year and show what is bound to be the most tear-jerking reel of those recently-departed, I'm sure both Guy and Steve will land somewhere near the middle. Which I tell you is exactly where they wanted to be. Guy had a piece of art hanging prominently in his living room that says simply, "I don't wanna be cool."
Guy lived not giving a fuck how he was perceived. He won his first Grammy at 73, and promptly threw it out the window of his Cadillac while riding home from the awards ceremony in LA. No he didn't. That's just me imagining how cool it would have been if he did. I honestly don't think Guy was even at the ceremony. He spent the last few years turning down offers for public appearances, including one from the organizers of Newport Folk, who wanted to honor him with a coveted spot on their lineup. All Guy ever wanted to do was write and hang out with the people he loved. And that's what he did until this morning, when he brought his Grammy to Susanna and passed out in her arms.